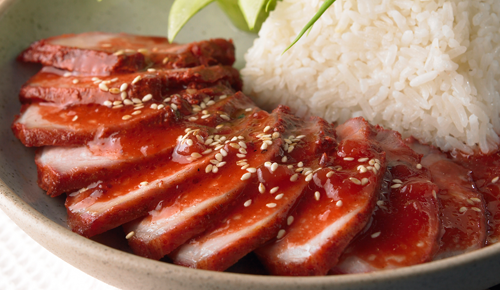 Roast Red Pork Seasoning Sauce Powder


How to Use :
1.Prepare 700 g. plrk, vut in to long strip.
2.Dissolve Roast Red Pork Seasoning Sauce Powder 1 packet (50 g.) to 1/2 cup (100 g.) of water. Mix well and marinate pork for 2 hours.
3.Roast or grill pork in medium heat (160 ํC) for 20 minutes until cooked. Slice into pieces and serve.
For gravy:
1.Dissolve 1 tbsp. (6 g.) of Roast Red Pork Seasoning mix in 1 cup (200 g.) of stock soup.
2.Add to the stock; 1 tbsp. brown sugar, 1tbsp. mashed peanut, 1tbsp. roasted white sesame 1 tbsp. of corn starch together and 1 tbsp.
Soy sauce simmer over low heat untill sauce become thick. Serve with roasted pork.